Welcome to Vivekananda Human Centre
"…Where should you go to seek for God? Are not all the poor, the miserable, the weak, Gods? Why not worship them first?" "…Serve as worship of the Lord Himself in the poor, the miserable, and the weak. … In this world always take the position of the given. Give everything and look for no return. Give love, give help, give service and give any little thing you can..."
Swami Vivekananda dedicated his life to provide for the under privileged members of human kind in the universe. Whether, ailing or downtrodden humanity, Swamiji gave away his own life to show the right path of a universe of love. The time for humanity to join forces and embrace this universal message is now.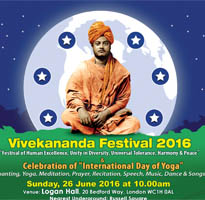 Vivek Festival
latest news
26th June 2016, Sunday at 9.30 a.m.
" Vivekananda Festival 2016 Festival of Human Excellence, Unity in Diversity "
Read More..
email newsletter